---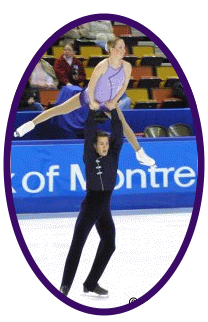 Carla Montgomery and Ryan Arnold are a new team who have already racked up some very impressive results. After joining forces in the summer of 2001, Carla, 16, and Ryan, 17, earned a shot at competing on the Junior Grand Prix circuit at the JGP event in The Hague, and astonished the world by winning the gold medal in their first major competition together. As a result, they competed at the SBC Cup in Nagano, Japan, and won a second gold medal, earning a spot in the Junior Grand Prix Final, where they finished fourth. At the Canadian Championships in Hamilton, Carla and Ryan won the Junior Pairs title in their first season together, and placed fifth at the 2002 Junior World Championships. In their second season together, Carla and Ryan earned a second trip to the Junior Grand Prix Final, where they placed sixth. If this is what they can accomplish in such a short time together, one can only imagine how far they'll go!
---
Home
This page is where you'll find the latest news on Carla and Ryan, and info about any of their upcoming competitions, TV appearances, or other events.
Bios
Want to know more about Carla and Ryan? Read their bios here.
Competitive Record
Results from over their years as a team.
Photo Gallery
A few photos... hopefully there will be more soon!
Related Links
Articles, links to past results, and other related links.
Contact
About the site owner, contact info, and other site information.
---
The Latest News
January 10, 2002 - Congratulations to Carla and Ryan for finishing sixth in their debut at the senior level at Canadians! Full results can be found here. Ryan also placed tenth in the junior men's event.
December 31, 2002 - The Junior Grand Prix season is over, and Carla and Ryan added another gold medal to their trophy case at the JGP event in Courchevel, France. They placed fourth at JGP Beijing and qualified for the JGP final, where they finished sixth. Next stop - their senior-level debut at Canadians!
March 6, 2002 - Carla and Ryan place fifth at the 2002 World Junior Championships! Results can be seen here. Congratulations to C&R on a great debut season.
February 12, 2002 - This site becomes the first Montgomery & Arnold fan site online.
January 9, 2002 - Carla and Ryan win the Canadian Junior Pairs title! Congratulations!
---
The photos on this page are property of Marg Burwell. Please visit her website for questions about photo use and to view more of her lovely photos.
---
HOME | Bios | Competitive Record | Photo Gallery | Links | Contact